| | |
| --- | --- |
| | Make Money Online With These Essential Resources That Will Help Build Your Digital Profit Centers With Strong Long-Term Cash Flow |
Valuable Software
Assets And Websites

These essential software resources and websites will greatly help you stay organized and will save you enormous amounts of time. Bookmark some sites for future reference. See below.

Communication
Resources And Tactics

Face-to-face communication, even over great distances, can still have great value. See below.

Powerful Image, Banner,
Gif, And Video Tools

Your traffic and marketing arsenal will be more effective and your cash flow much stronger with these resources. See below.

Traffic And Marketing Resources.

You will develop a powerful traffic and marketing arsenal with these tools and assets. See below.
(In this extensive list of tools and resources are some affiliate links. Earnings from these links enable me to sample new products and services and add the best of those to this list so that everyone benefits.)
Mastering the concepts in this post (at your own pace!), and mastering the use of the tools and resources listed will greatly strengthen your Internet marketing and network marketing skills and will make you, personally, a more valuable asset to your referral networks.
Do not get bogged down with an intense study of this material, but bookmark websites where needed in subject titled folders.
All links should open in a new tab/window.
Essential Software
Evernote.com Best note taking app.

Free version is a fantastic asset.

Keep all your affiliate and referral uls in one place. Set up a Marketing Strategies And Tactics notebook to record as you learn.

MUST HAVE ASSET!



https://evernote.com


Set up

Google Spreadsheets

to keep track of your "best customers" and your entire referral networks. Set up a separate spreadsheet for your level one referrals. (include in the data the date each joined

your main program

so you can track their progress).

https://www.google.com/sheets/about/


Free CRM software with HubSpot. CRM stands for "customer relationship management" and this resource is a valuable alternative to spread sheets.

Learn by doing! CRM will be extraordinarily valuable when your referral networks grow to enormous sizes.

https://www.hubspot.com/


Learn the value of an url rotator. Two rotators available with your

AIOP

membership. There will be times when you want to help your downline drive traffic to their squeeze pages. Learning to use your url rotators is an extremely powerful asset.


Bookmark FreeRotator.com A long time resource whose rotators have multiple valuable features.

https://freerotator.com


Important to have a password manager. Try

RoboForm.com

With multiple online accounts it is

absolutely mandatory

that you have a password manager. When you log in via

RoboForm,

the data is encrypted.

https://www.roboform.com/?affid=istmo


Bookmark IFTTT.com The range of functions that you can automate with

IFTTT

is astounding! Add to your

Evernote

listings in an "Essential Software" notebook.



https://ifttt.com/




Boost your daily productivity to extraordinarily high levels: Action Enforcer is a low cost software asset that should prove to be a very powerful addition to your Internet marketing arsenal.

https://nanacast.com/vp/96244/147502/


Communication Assets


Valuable online face-to-face media resource.

Gizmoh Mediashare

is a strong alternative to

Zoom,

because it has huge potential to become a profit center, and because it does not have a 40-minute time limit on use like

Zoom

has.

Sign up for this asset

before

you download it.

https://gizmohapp.page.link/zVwNvzCGeNXb5sew5


Download Zoom. Very valuable to have a free face-to-face system for communication and training.

https://zoom.us


Cell phone with "Contacts" capacity – There are multiple functions you want to utilize with your cell phone. With

multiple income apps

you should download all income apps to your phone and put them in the same folder and have that folder on your home page.

Create App Folders on Galaxy Smartphones: On the Home/Apps screen, tap and hold an app, and drag it to another app. Drop the app when a folder frame appears around the apps. A new folder containing the selected apps will be created. You can enter a folder name. … On the Home/Apps screen, a new folder is created.

How to make a folder on iphone home screen:
Touch and hold the Home Screen background until the apps begin to jiggle. To create a folder, drag an app onto another app. Drag other apps into the folder. You can have multiple pages of apps in the folder.


Put all network marketing prospects in a

"Prospects"

group on your cell. Add same to

your CRM or spreadsheet.




Valuable app "Groups" on the App Store (apple.com). For iPhone users download this app for convenient features dealing with groups.

https://apps.apple.com/us/app/groups/id407855546


Contacts A+ groups & dialer app. For android users with multiple groups. There needs to be an instructional video for this app.

https://play.google.com/store/apps/details?id=com.urecy.contacts&gl=US


Download the free

YouMail app.

Activate VoiceMail To Text feature, because it is much more convenient to be able to scan the text of messages rather than listen to them.

https://www.youmail.com/home/free-app


Free Conference Calls once

YouMail app

is set up:
(A)Host calls from your mobile number
(B)Invite people by telling them to call (your mobile number)
(C)When they hear your voicemail greeting, they press "8" to join
(D)As the host, press the "Join Conference"
button (icon?) at lower right on the

"Conference Calls"

page
(E)Everyone's in the call!
(F)Test this process

before

first use for business



How to Get a Free Google Phone Number



If you are reluctant to give out your personal telephone number, get a free number from Google and re-direct to your personal number (USA and Canada residents).

https://www.lifewire.com/get-a-google-phone-number-5211558


Video calls with

"Duo"

app on your cell phone

https://duo.google.com


Image And Video Resources


Download free images from

Pixabay.com

– An extraordinary site.

"Free"

means no royalties owed and in most cases no copyright acknowledgement required.



https://pixabay.com/



If you already have a blog/website, it is recommended that you spend 10 minutes/day for the next month downloading relevant images to your site. Pixabay has a search function, so it is easy to find relevant images.


Free image plugin for

WordPress

blogs. Download images directly to your WordPress media library from

Pixabay



https://wordpress.org/plugins/free-images


Free image resizer. Many images you download will be too large for website/blog use and need to be resized. You can also use this tool to crop specific sections of the images you download.

https://imageresizer.com/


Free asset, AddText.com, enables you to add text to any image.

https://addtext.com


Free screen capture tool (it is easy to text this link with relevant images)

https://prnt.sc



Free Video Editor: FXHome


When you learn the best way to use

YouTube.com

and

TikTok.com,

you will be able to drive heavy traffic to your web content or squeeze pages.

https://fxhome.com/



Very valuable

design tool
https://canva.com


The fastest way to create free visual step-by-step guides.

Scribe

has an Add-on or extension for most browsers.



https://scribehow.com/signup?affiliate=fa3893fb-dab6-420a-82a6-97ffff7394da




Traffic And Marketing Resources


Everyone should have a

WordPress

Blog/Website in their Internet marketing arsenal. Request support at your website host to set up your site. Use

"Softaculous"

for instant installation.



Free WordPress templates.

Huge variety of choices available. Make sure the chosen theme is "responsive" (the display is adaptive to different devices – cell vs laptap, etc.) Sample free themes at

https://DesignOrbital.com


Extraordinary online marketplace for freelance services. High quality work available.

Look for "level 2" sellers.

New Seller to Top Rated: The Fiverr Seller Levels Explained

https://www.manypixels.co/blog/post/fiverr-seller-levels

Explore Fiverr price ranges before you set your budget. High quality results at very affordable prices.



http://www.fiverr.com/s2/cf7cdebf79




Best free banner creator. Advertise while you sleep through banner advertising.



https://instantbannercreator.com/?rid=25275




New Network Banner Advertising Platform Use this asset to take your banner advertising to the next level. Take notice that the paid level can only be funded with crypto.

https://turbinance.net/KryptoKing


Excellent domain name registrar

https://Domain.com



Free Domain Name Generator



https://domainwheel.com/


Very powerful network marketer. Set up a separate "favorites" folder for

Tanya Aliza's

content. If you find value in the two videos below, be sure to "like" them and "Subscribe" to the channel. Set up automatic notification, because this is powerful info on a regular basis.

Network Marketing Training – How To Transition A Conversation To Business When Talking To Prospects – YouTube

https://www.youtube.com/watch?v=K9EtPh6XND8

Prospecting Tips – How To Grow An Email List That Brings You Unlimited Prospects Ready To Buy

https://www.youtube.com/watch?v=v6vfhmJcjVo


Add the knowledge of

Tom "Big Al" Schreiter,

network marketing master, to your marketing arsenal



How To Build Instant Rapport (In Just 2 Sentences) With Tom Schreiter – YouTube



https://www.youtube.com/watch?v=rrooS1Kj19o

The "ice breaker" formula anyone can use. Pay close attention to the Venn diagram. The concept explained is crucial.

https://bigalbooks.com/blog/icebreakerexcert/

3 Story sharing options for sponsoring

https://bigalbooks.com/podcast/episode31/


Valuable network marketing sites:
(A)Strong MLM asset. Best choice to directly recruit other network marketers. FREE to join with huge benefits!

https://www.mlmgateway.com/?refcode=88335957

(B) Check out Feedspot Media Contact Database

https://blog.feedspot.com/network_marketing_blogs/


4 Awesome Examples of Network Marketing Websites

https://joanlizrichardson.com/4-awesome-examples-of-network-marketing-websites/



Lean Startup Life – Best MLM Bloggers



https://www.leanstartuplife.com/2020/12/top-mlm-blogs-best-network-marketing-bloggers.html



Top 10 MLM Forums and Social Networks



https://blog.infinitemlmsoftware.com/top-mlm-forums/


Set up multiple email accounts. At least one

gmail.com account,

plus

cpanel email accounts

if you have your own domain.

Google

email addresses will integrate with

Hubspot CRM.

Some suggested addresses:



freeoffers@

– alerts@ –

forums@

– test@



testing@

– blogcomments@ –

ezines@ –



emailads@ –

socialmedia@

–

socialbookmarking@ – webinars@

The basic reason for specific email accounts is to help you stay organized. Also, important emails will not be lost in the clutter.
test@ is to be used when you

"test" (proofread)

your downline's autoresponder messages to see if they are set up correctly.


freeoffers@

will save your other accounts from being inundated with spam.

Keep track of all your email accounts with an Email Spreadsheet. Whenever you use an email account to sign up for any membership site or long-term resource, note the program in your spreadsheet under the relevant email account. This process will save you many headaches in the future.


Build your own email list with this powerful asset. This

Email Advertising Directory

will be particularly valuable if you currently have no email list. Create a suitable incentive to join your list.

https://listhoopla.directory/r.cgi/13236


Automate your email marketing as you build your email list with the above asset.

https://www.trafficzipper.com/index.php?af=32497


Set up a

Google

alerts account for keywords that will help in your recruiting process at

https://www.google.com/alerts


How to Create an RSS Feed from a Google Alert

https://www.howtogeek.com/444549/how-to-create-an-rss-feed-from-a-google-alert/


See website traffic and key metrics for any website. Determine which website owners are best prospects by level of traffic. Extensions for different browsers to measure traffic are available.

https://www.similarweb.com/corp/extension/


Find out who owns any specific domain at

https://www.whois.com

You can sometimes get specific phone numbers and mailing addresses, but some domain owners choose a privacy option.


For USA residents use this option to get phone numbers of promising prospects:

https://www.whitepages.com

It is worth it to pay the annual fee for the much more complete results of phone numbers.


Add a RSS feed to your blog.

View this 3-minute video for an explanation of RSS feeds.

https://www.commoncraft.com/video/rss


Submit your RSS feed to RSS directories:

https://trafficnymphomaniac.com/increase-blog-traffic-with-these-53-rss-feeds-directories/


Ping your content (fresh web content, blog comment urls, etc) with

Pingler

to make sure your content gets promptly indexed

https://www.pingler.com/1683.html


Why You Should Set Up A Google Webmaster Tools Account:You want to be able to track where traffic to your squeeze page is coming from. Bookmark this valuable content:

https://www.affiliatemarketertraining.com/set-up-a-google-webmaster-tools-account/


For data collection from social media and social bookmarking sites add

Google Forms

to your Internet marketing arsenal:

https://www.google.com/forms/about/


Include an earnings email disclaimer in your autoresponder messages:

https://www.termsfeed.com/blog/earnings-disclaimer/


Valuable url shortener. Great tool when you want to text an url or include an url on Facebook.

https://bitly.com


One of the most valuable assets on the entire Internet.

Michael Senoff's HardToFindSeminars.com

Be sure to bookmark this site for continual future reference.



https://www.hardtofindseminars.com/




Valuable Email Marketing Asset: The email graphic you see at the end of this message

is a paid resource.

However, instead of being an expense,

it has the potential to be a profit center,

because it has a 5-level referral network.

The cost is

$9 (US) per month,

but

only $59 if paid annually.

You can earn 30% on direct referrals and 10% on levels 2 thru 5.



You can customize this asset

with images, destination urls, personal info, and design. Add this powerful tool to your Internet marketing arsenal as soon as budget permits:

https://www.signasource.com/?rc=81C7FB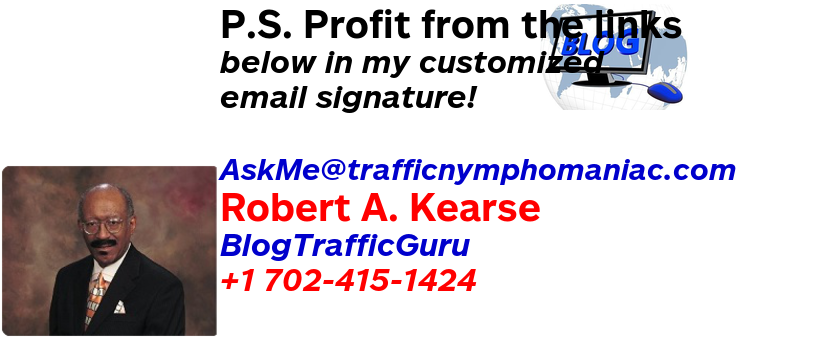 Get a signature for your online or offline business, customized the way you want,
and earn residual commissions on 5 levels of referrals. For more info CLICK HERE
.
Consumer Notice: This is an affiliate supported blog post. That means if you buy something from a link or ad in this post, or based on my recommendation, either expressed or implied, I may get paid an affiliate commission. This income helps me sample new products and services, and I add new valuable content to these training blog posts as a result.


Legal Disclaimer:(1)Earnings potential presented in this blog post are estimates, not guarantees.
(2)Results are not guaranteed. As with any business your results may vary and will be based on your individual capacity, business experience, expertise, and level of desire.
(3)Past success may not occur again. I can't guarantee your future results and/or success, because there is no certainty that past earnings can be duplicated in the future.
(4)YOU, as a user must make an effort. The use of my information and recomendations should be based on your own due diligence, and you agree that I, as the creator of this blog post am not liable for any success or failure of your business that is directly or indirectly related to the use of our information or recommendations.
Home
Shocking Bio
Privacy Policy